This content is the same as the README page from this system's code repository.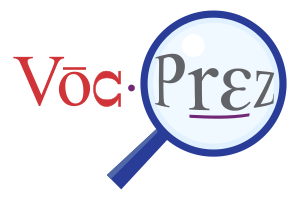 VocPrez is a read-only web delivery system - web pages and API - for Simple Knowledge Organization System (SKOS)-formulated RDF vocabularies. It complies with Content Negotiation by Profile.
Introduction
VocPrez is used by:
Documentation
See the documentation at https://rdflib.dev/VocPrez/.
License
This code is licensed using the GPL v3 licence. See the LICENSE file in this repository for the deed.
Regarding attribution as per the license: please ensure that the VocPrez logo is visible on all public instance of VocPrez.
Contacts
Lead Developer:
Nicholas Car
Data Systems Architect
SURROUND Australia Pty Ltd
nicholas.car@surroundaustralia.com